Reservoir
Taibilla reservoir
History.
The first project for the construction of a dam on the River Taibilla was drawn up in 1918 by the Confederación Hidrográfica del Segura. Its site was to be the Estrecho del Aire (which is the ski-jump spillway area of the current dam).
Following the preparation of the project and the reform projects, which did not include geological studies, work was begun in 1926. On excavating the foundations, the possible unfeasibility of the project was observed because of tectonic and permeability problems of the natural downstream boundary for the storage area.
From that moment, between 1928 and 1930, three geological reports were drawn up with the initial aim of studying the Estrecho del Aire natural downstream boundary, but the above-mentioned problems led to other sites being studied, one of which was to become the site of the dam today (a few metres upstream from the Estrecho del Aire).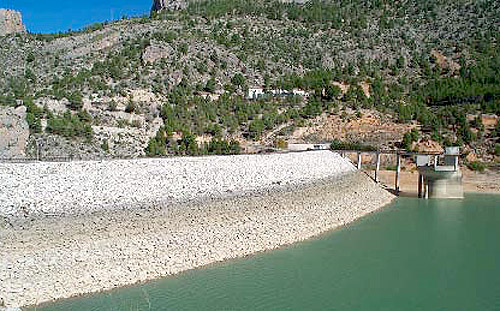 From the information contained in the geological reports and the recommendations to change the site of the dam, the preliminary project for the Turrilla dam was presented in 1935. This was a rockfill dam with concrete facing located in the same area as the current dam.
On 29th July 1966, the Ministry of Public Works took the decision to "Order the Mancomunidad" to draw up a plan for the works required to meet the supply needs of the area under its jurisdiction for the following 20 years. Following the study of the needs and the preparation of a preliminary project for the works required, the drafting of the dam project was authorised in 1967.
After the project had been passed in 1969, there was a public tender for the "Taibilla Dam" works.
The document verifying readiness for construction was issued on 22nd June, 1970.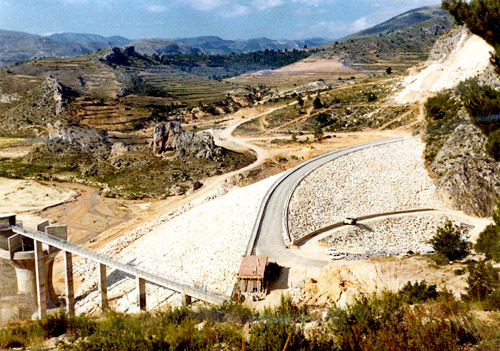 It should be mentioned that the project drawn up was incomplete as it required a scale model study of the functioning of the spillway, regarding which, in an earlier study, it had been recommended that the latter be extended to rejoin the river course downstream from the dam in the calcareous gorge formed by the Estrecho del Aire, although the report was made known before the project was awarded.
The works began on 1st July.