PRESIDENT'S WELCOME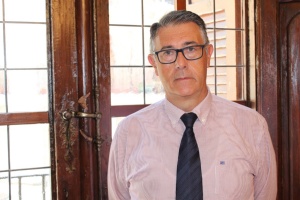 Please be welcome to the Segura River Basin Authority official Web site. The Segura River Basin Authority is a public autonomous organization assigned to the Directorate General for Water of the Ministry for the Ecological Transition and the Demographic Challenge, and it manages water resources in South-Eastern Spain. Our aim is to conciliate the water rights of the users of the four autonomous communities within the basin (Murcia, Castilla-La Mancha, Comunidad Valenciana and Andalucia) with the protection of the environment linked to these resources.
The single management system linked to the Segura River Basin is characterized by a structural water deficit as well as usual extreme meteorological events like floods and droughts. Accordingly, this basin has developed along its history a water culture focused in the optimum use of available resources, both for human and agricultural use.
For this reason, the workers of Segura River Basin Authority have to satisfy the legal water rights while applying the Water Framework Directive principles, which sets common criteria to protect water resources in the European Union states.
The urban water supply is the main priority in our Water Law. Thus, we focus our efforts on guaranteeing the water provision to the public administration in charge of delivering it. Specially in the peak season, when demand grows.
On top of that, it is also important to increase the water supply guarantee for the agricultural sector and its linked industry. This basin is pioneer in integrated water management, making the most of the available resources: superficial water, transfers from external basins, groundwater, reclaimed water and desalinated sea water.
Finally, we have to advance in social, economic and ecological sustainability. Therefore we add to the traditional public works agenda new projects to restore the native flora and fauna of the water ecosystem. We also send a message to the water users to remind them the natural legacy we have to leave for future generations.
I do not want to finish without sharing all the information of the Segura River Basin Authority Web site. Here you can look up the history of our basin and organization, as well as real time information about water quantity and quality or documents to administrative proceedings.
I hope that you find our Web site useful and a way to get to know our basin organization, almost centenary, but in the process to be a XXIst century reference.
Mario Andrés Urrea Mallebrera.
President.
×