Public Participation Events
En este momento se ha cerrado la fecha de las siguientes convocatorias:
As active public participation tools between the Basin Agency and the parties concerned, public information seminars, informative sessions, and sectorial and territorial committees will be organised to cover the whole Demarcation.
The purpose of the sectorial and territorial committees is:
Promote dialogue and mediation as strategies for drafting the Segura Demarcation Hydrological Plan.
Design and implement a public participation process to gather, analyse and systematise perceptions, opinions and suggestions, as well as the main criticisms and potentially controversial aspects expressed by the different agents with regard to the process.
Acknowledge the legitimacy of all stances.
Promote a common scenario between all the agents related with water management in the Segura, highlighting their common interests and creating suitable channels to address the points separating them.
Set up a database with information from the relevant interested parties for the process.
Present the conclusions reached during the public participation process in the major forums related to water management in the Segura.
Produce recommendations on aspects to be improved from the perceptions and opinions of the different interested parties in order to include them in the design of the Segura Demarcation Hydrological Plan.
Involve all of the regional and national institutions in producing the future Hydrological Plan.
SECTORIAL COMMITTEES
The sectorial committees will establish an active public participation framework between the social and economic partners, grouped around the sectors affected by the new Basin Hydrological Plan, and the River Segura Hydrographic Confederation Hydrological Planning Office. 7 sectorial committees have been set up; they are the following:
Socio-economic committee.
Agrarian committee.
Environmental committee.
Supply committee.
Coastal waters committee (Region of Murcia).
Coastal waters committee (Region of Valencia).
Coastal waters committee (Andalusia).
These committees, apart from fostering public consultation of the initial documents in the public participation process, will take note of any suggestions or contributions made by the members of the committees regarding the planning process in general, and, in particular, the documents undergoing a process of public consultation, within the new planning process.
TERRITORIAL COMMITTEES
The territorial committees will reflect geographical distribution consisting of regional groupings, so that they will encompass homogeneous interested parties in terms of sector of interest and located within the corresponding regions.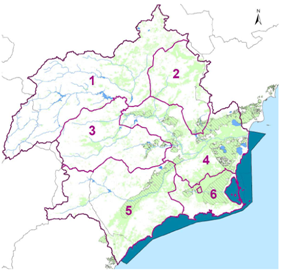 Regional Assemblies
Cabeceras Segura y Mundo y Sureste de Albacete
Altiplano
Noroeste de Murcia y Mula
Vegas del Segura y Sur de Alicante
Suroeste – Valle del Guadalentín
Campo de Cartagena