1:250.000-SCALED GENERAL MAP OF THE SEGURA RIVER BASIN
Below, a digital version of the Segura River Basin Map is included, on a scale of 1:250,000.
This map is available in two formats: a mural version and a folded one, more convenient for using in field work or in the office. The latter includes additional information on the back as well as a practical list of place names that helps to locate all the items on the map.
This map includes both general and specific information on hydrographical and environmental issues.
Download full map (mural version).
(5.24 MB)

(18.65 MB)
Download full map (folded version).
(33.15 MB)

(32.81 MB)
Descargar el mapa completo en versión mural georeferenciado (ED50 / UTM HUSO 30)

(201 MB)
Click on grid sheet to see that area of the map.
Use the search engine below the map to find a place name within the River Basin.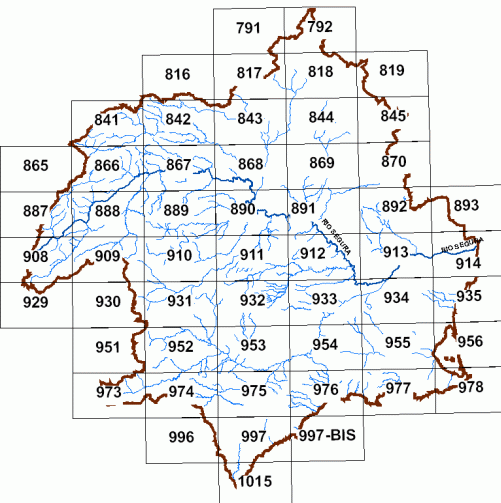 Sheet 791 | Sheet 792

Sheet 816 | Sheet 817 | Sheet 818 | Sheet 819

Sheet 841 | Sheet 842 | Sheet 843 | Sheet 844 | Sheet 845

Sheet 865 | Sheet 866 | Sheet 867 | Sheet 868 | Sheet 869 | Sheet 870

Sheet 887 | Sheet 888 | Sheet 889 | Sheet 890 | Sheet 891 | Sheet 892 | Sheet 893

Sheet 908 | Sheet 909 | Sheet 910 | Sheet 911 | Sheet 912 | Sheet 913 | Sheet 914

Sheet 929 | Sheet 930 | Sheet 931 | Sheet 932 | Sheet 933 | Sheet 934 | Sheet 935

Sheet 951 | Sheet 952 | Sheet 953 | Sheet 954 | Sheet 955 | Sheet 956

Sheet 973 | Sheet 974 | Sheet 975 | Sheet 976 | Sheet 977 | Sheet 978

Sheet 996 | Sheet 997 | Sheet 997_BIS

Sheet 1015
Search by Place Name